Itinerary
Our offices are located at the centre of Brussels near Wetstraat. Lucky for you, we're easy to reach by public transport.
Address: Kunstlaan 24, 1000 Brussels.
---
On foot from the Brussels-Central train station (aproximately 10 to 15 minutes):
Turn to Europaplein as you leave the station.
Follow the Putterijstraat on your right.
Take the Koloniënstraat (uphill).
Go straight ahead at the crossing with Koningsstraat and follow the Wetstraat until you reach the inner ring road of Brussels (Kleine Ring).
Cross the ring road.
The entrance to our office (Kunstlaan 24) is located on the left side of the Wetsraat (between Carrefour and TastyCorner.
An alternative route runs through Warandepark, but is inaccessible by wheelchair: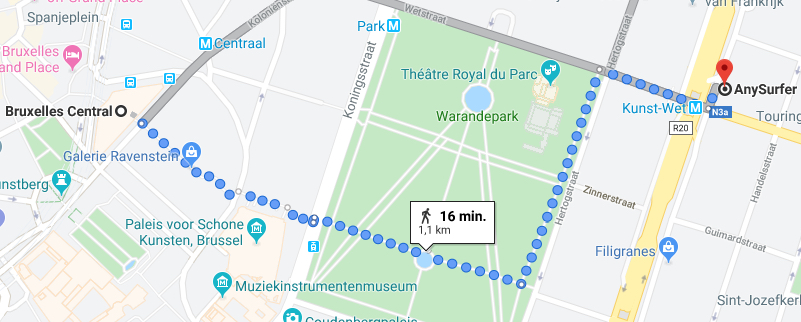 Subway
Our office is located right next to an exit of the subway station Kunst-Wet/Arts-Loi.
From Brussels-Central: take line 1 (direction Stokkel) or line 5 (direction Hermann Debroux) and get off at the second stop.
From Brussels-South/Midi: take line 2 or 6 (direction Simonis-Elisabeth) and get off at the sixth stop.
From Schuman: take line 1 or 5 and get off at the second stop.
Take the exit Kunstlaan (1-24) or Wetstraat II (even numbers) at the Kunst-Wet/Arts-Loi metro station. The entrance of our office will be on your right.
By car
Coming from the E40 motorway from Ghent:
Enter the tunnels as you reach the Koekelberg basilica, and drive towards the city centre.
Follow the tunnels of the inner ring until you pass the Kunst-Wet tunnel.
Turn left at the Belliardstraat in the direction of the basilica, next to the houses.
Follow this road. Once you've passed Wetstraat, you will find our office.
Coming from the E40 motorway from Leuven:
Enter Brussels through the Wetstraat.
Turn right at the inner ring.
You will find our office on your right.
We don't have parking spaces available for visitors. The nearest underground parking is "Loi - Wet", at Wetstraat/Rue de la loi 19, about 100 metre from our offices.
Parlophone
Look up "Blindenzorg" in our intercom system, or enter the code 02421 to reach our offices. Press the bell icon.